Business Writing Excellence

9am - 5pm
Members: $750 + GST
Non - Members & Associate Members: $995 + GST

We all know what good writing is. It's the novel we can't put down, the poem we never forgot, and the speech that changes the way we look at the world. In the Business world good writing is the email that gets action and the letter that says what a phone call can't.

In business writing, the language is concrete, the point of view is clear, and the points are well expressed. Good writing is hard work, and even the best writers get discouraged. However, with practice you can feel more confident about your own writing. This one-day workshop will give you the tools to become a better writer.


What Will Students Learn?
The value of good written communication.
How to write and proofread your work so it is clear, concise, complete, and correct.
Prepare reports and proposals that inform, persuade, and provide clear information.
How to apply these skills in real world situations.
What Topics are Covered?
The four C's: clear, concise, complete, and correct
Active and passive voice
Persuasion, designing a message, and tough questions
Readability index
Practical and inclusive language
Sentence construction and punctuation
Spelling and proofreading
Reviewing your writing
Click on the documents link below to see the full course program or on one of the event links to register for the date of your choice.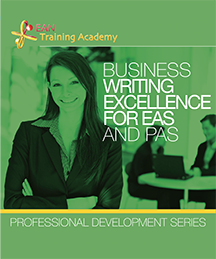 Business Writing Excellence Brochure
| Member Registrations | Non-Member Registrations |
| --- | --- |
| Please click on the appropriate date and event link below to register for that event. | Please click on the appropriate date and event link below to register for that event. |
| Member Registrations | Non-Member Registrations |
| --- | --- |
| Please click on the appropriate date and event link below to register for that event. | Please click on the appropriate date and event link below to register for that event. |
---
Note:
Attendees will be provided with the necessary materials for all training courses. All courses are held in central locations, close to the CBD of each city. Executive Assistant Academy courses are all designed and written by EAN and delivered by trainers either employed by EAN or contracted by EAN. All trainers are specifically chosen for specific courses because of their expertise and experience in their respective fields. For terms and conditions relating to bookings and payments, please see our Terms Of Use & Privacy Statement page.