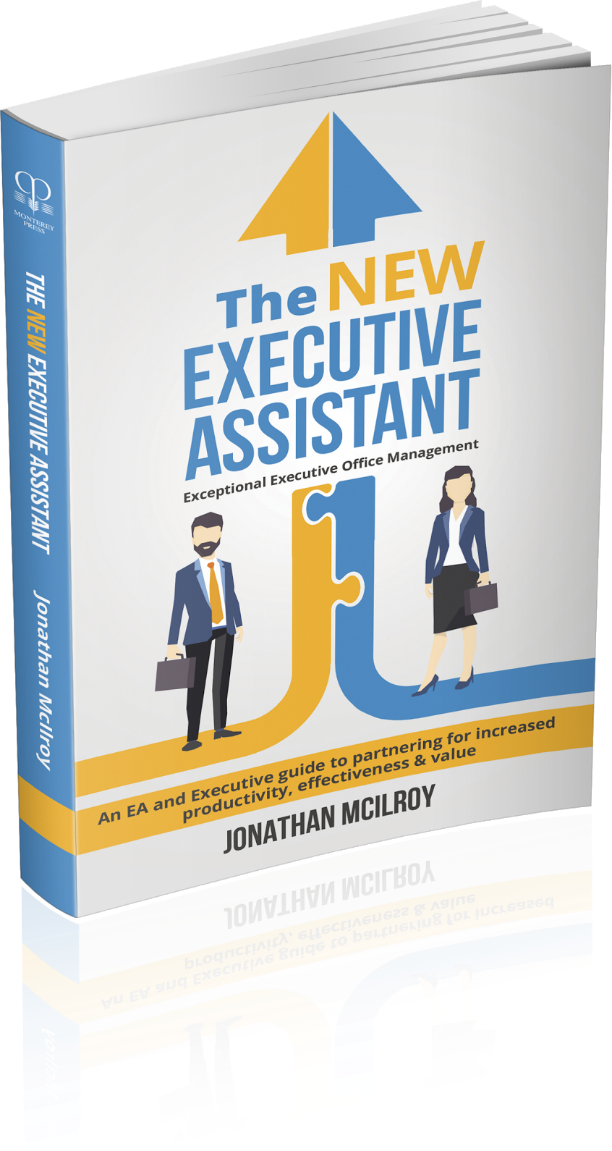 ORDER NOW - NEW INTERNATIONAL MUST READ BOOK
The NEW Executive Assistant
Exceptional Executive Office Management
A global first practical guide and handbook for EAs AND their executives - The book that is already changing how businesses all around the world are operating
Book Order: The NEW Executive Assistant (Australia Only)
$29.95 + $5 postage
Book Order: The NEW Executive Assistant (International Orders)
AUD$29.95 + $12.50 postage
Also available to purchase on Amazon and most other reputable online sites plus most eBook sites including Apple which may be cheaper for international orders from outside of Australia.

(To accommodate for necessary additional print runs from time to time, please allow up to two weeks in Australia for your book to be delivered, and three weeks for overseas orders.)

About the Book
What does it take to be a great EA? No doubt we all feel like we have witnessed some amazing EAs or worked with some amazing EAs, but what is the essence of what they do that actually makes them amazing? What specifically is it that they do that differentiates them from other EAs?
That isn't an easy question to answer for a multitude of reasons.
Part of the problem is knowing the framework to identify what being a great EA even means. Because to one person that will be very different from another, especially to one executive or another. For example, one executive might see an EA as being truly amazing, and yet another more progressive executive, working with the same EA, could find them decidedly average.
Executive perceptions, and beyond that, organisational and broader management perceptions, are really huge issues because every executive has their own idea of what they want from their EA.
And as if that wasn't problem enough, beyond perceptions, and into the realms of actual role responsibilities and even purpose, the lack of real understanding within organisations around these is often challenging.
And herein lies the crux of what led to this book being written.
The ignorance and misunderstanding within many organisations about what EAs actually do is really quite astonishing.
As for a clear, collective vision within organisations for what they should be doing, well that is often totally lacking or, if a vision does exist, it often tends to have been created as part of some project of rationalisation or through a role shifting program, usually by people who never truly understood the role in the first place.
To date I have never walked into an organisation and witnessed a document that adequately reflects what the EAs do and are supposed to do. Not at the broader organisation level, and certainly not at the specific level between EAs and their own individual executives, where you would expect position descriptions and even performance measurement and review documents to be a lot more accurate.
Every single EA and executive relationship operates differently. They all have their own boundaries and their own idiosyncratic ways of working. But most of these evolve organically as they discover for themselves what it is they want and what works, rather than ever having been fully conceptualised and planned out. And even once they have evolved to the place where the partnership is working, the essence of why is never usually written down and captured.
A great many books have been written about what it takes to be a great EA, but all from the perspective solely of the EA. Few have ever really addressed the broader organisational issues and the specific executive issues.
The role of the EA exists to facilitate executives being their most productive and effective and to help them deliver the best possible results for their organisations.
So with that in mind, this book was written with the acceptance that there is no point just addressing EA skills, knowledge, abilities and business acumen, the nuances of time management and diary management, or even software usage, as so many books do, if it didn't first address what it might even mean to be a great EA, and to provide some framework for organisations to really conceptualise and then document what they truly want their EAs to do.
And from there, and for the EA's perspective, to then outline what is possible in the role, what some of those EAs who are truly working alongside their executives in real partnerships are actually doing, how they are managing their executive's offices, and to outline the great many areas where they can seek to add the most value to their executives, their teams and broader organisations every single day.
This book is a truly practical guide for EAs, executives and their organisations that seeks first to help build better vision and understanding around role purpose, responsibilities, structure and framework, before providing clear guidance to all parties on how to work best together. And for that reason I believe most EAs and their organisations will find it invaluable.

Since its launch in 2018 this book has already been read not only by EAs, but also by senior executives, in over 30 countries all across the globe, and it is having a major impact on how executives and senior management teams are thinking and operating. Make sure you order you copy today.
Order your copy now of the 2018 sensation that is causing a stir in businesses all around the world
Just some of what EAs and their Executives and broader management teams will get out of this book:
Identify why the role of the EA is so misunderstood throughout most organisations
Understand the role of the EA as it can exist beyond the task based focus of most EA position descriptions – many of which haven't changed in decades
Examine the many areas where EAs are delivering huge intangible benefits for certain executives within certain organisations
Provide a framework for organisations to develop their own clear vision, purpose and role structure for their EAs, as well as to develop frameworks and career pathways for all their EAs
Discover an adaptable individual model for amazing EA and Executive partnerships and ways of working that includes shared alignment and vision around all aspects of the role
Explore a model and methodology for how to accelerate the development of trust within an EA and executive partnership with practical step by step instructions on how to achieve this
Discover a guide for how every EA and Executive can find their own place on the spectrum of relationships that cover boundaries and working areas, touching on priorities, communications, access, projects and so much more
Uncover what it means for an EA to truly be the 'Manager of the Executive Office' and to excel in this role
Recognise why the best EAs have moved from being reactive and directed to being proactive managers
Learn how the EA can have a massive role in helping to manage executive energy, focus, mindset, priorities and relationships
Examine why it is essential for EAs to increase their depth of knowledge, skills and business acumen and exactly how this helps them help manage and sort executive priorities, and why this is one of the most vital areas an EA can master
Unlock the keys to successfully managing the flow of access and communications into the executive office and the importance of building strong relationships with executive team members and stakeholders to facilitate this
Discover the benefits to EAs who are perceived as being the facilitators of best outcomes for their executives and all their team members as opposed to being viewed as gatekeepers
Learn when EAs need to know to step up and be the protectors and guardians their executives need at any given time, protecting them from others, and even sometimes from themselves
Discover why executives are so reliant on their EAs acting as their corporate thermometer and what that means for the EA role
Examine why great EAs are experts at helping to disseminate and propagate executive driven initiatives, ideas and messages in an organisation, even acting as change champions throughout the organisation when needed
Learn how important it is for EAs to be the most networked people, both vertically and horizontally, within the organisation
Explore the influence and power that EAs who are well networked externally also have and what that can mean for their organisations
Examine a framework to help all EAs, their executives and organisations develop more accurate and more relevant EA position or role descriptions
Examine a framework to help all EAs, their executives and organisations develop more accurate and more relevant EA performance measurement criterion
Don't hesitate, order now.

For bulk corporate or private order enquiries, please email Jonathan McIlroy at jonathan@executiveassistant.com with the details and he will contact you soon to discuss options and costs.

Book Order: The NEW Executive Assistant (Australia Only)
$29.95 + $5 postage

Book Order: The NEW Executive Assistant (International Orders)
AUD$29.95 + $12.50 postage

Also available to purchase on Amazon and most other reputable online sites plus most eBook sites including Apple.

About the Author
Jonathan McIlroy is a founding director of Executive Assistant Network, and the global head of Executive Assistant Academy, the foremost training organisation for Executive Assistants in the Asia Pacific region with a growing international reputation for being true thought leaders in regard to the EA role and the relationship between EAs and their Executives.