Effective training and education for EAs and PAs delivers enhanced performance and productivity to executives and their businesses. From the reactive and directed EAs of old, your EAs today should be proactive managers, responsible for managing Executive focus, energy, mind-set and priorities.
Full details of how we can assist in the development of more effective and productive EA and executive partnerships can be found in the following brochure.
Irrespective of the size of your organisation, if you are looking for training or development solutions for your Executive Assistants or Personal Assistants that will have a significant impact on the performance of your executive and management teams, then we can assist you.

Contact us now on 02 8402 5000 for more information or email training@ExecutiveAssistant.com

Why Executive Assistant Academy
No other group or organisation touches or interacts with as many EAs and PAs each year

No other group or organisation has conducted the levels of research with EAs and PAs that we have – but equally as importantly, none have investigated the role as thoroughly with as many of the executives those assistants actually work with as we have

We have pioneered unique research programs around the reality of what EAs and PAs actually do today and, more importantly, what their businesses and executives need

All our programs are focussed around a rationalised model of what will deliver real and tangible benefits not just to the students but also to their executives

Our Approach

We believe in a partnership model designed to ensure EAs / PAs and their executives work together synergistically and cohesively.
We train EAs and PAs to become independent and pro-active leaders who can manage the office of their executive in ways that enable the executives to be their most productive and effective.

Modern Executive Assistants and Personal Assistants need the breadth of knowledge of a good general manager but without the depth of knowledge. But arguably, they need better interpersonal or soft skills. This is what we focus on delivering for all our in-house clients.
Finally, our focus on a rationalised model that sees EAs and PAs assessed objectively in regards to what they actually deliver versus subjectively based on superficial issues, the beauty contest approach, means we have a focus in our education that ensures EAs and PAs constantly evaluate their actions and priorities against the known objectives of the business and the strategic direction of the organisation.

EA Masterclass Program

This groundbreaking program is delivered over one day, utilising processes of self-discovery and industry benchmarking to elevate the effectiveness of the EA and the Executive, to optimise the performance of the Executive office and to ensure that the Partnership operates at its highest level.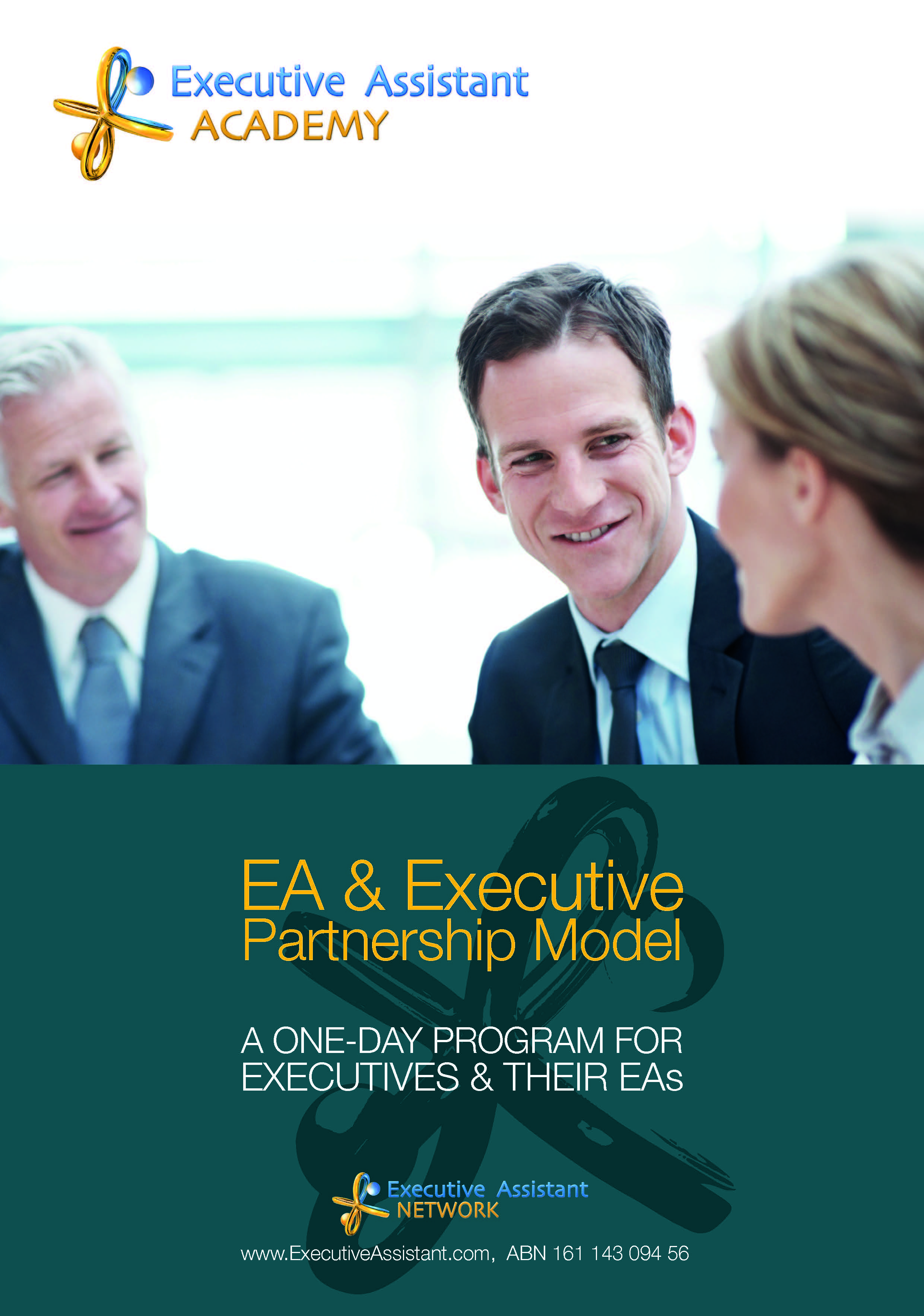 Click here for more info on this program

Off-the shelf products

All our public courses, including our Professional Development series courses and our Diploma qualifications can be delivered as in-house programs to help ensure better cohesion amongst the teams undertaking them.


Bespoke solutions

Many businesses have unique sets of circumstances or structures that require unique training and education solutions. This is where we excel. Because of the research we have previously undertaken into the role of EAs and PAs, we can work with your executive / management teams, HR managers or L&D managers, along with your EAs and PAs if required, to identify exactly what training and development your assistants need and then to put together training programs that will deliver accordingly.


Contact us

For more information on what we can do to assist with the development of the Executive Assistants and Personal Assistants in your organisation, contact Jonathan McIlroy, Director, Education & Training on 02 8402 5000 or by email to training@ExecutiveAssistant.com

Just some of those organisations for whom we have provided in-house training solutions include:

CSIRO
Global CCS
ANZ
AMP
Monash UniversityTransport Construction Authority
Tafe NSW
Ernst & Young
Engineers Australia
Moreland City Council
Property Council of Australia
Department of Defence
Medibank
Catholic Education Diocese of Wollongong
McDonalds Australia
Telstra
Adobe
Australian Taxation Office