Self Management and Self Leadership (Essential Time and Prioritisation for EAs and PAs)
9am - 5pm
Members: $750 + GST
Non - Members & Associate Members: $995 + GST
Managing time and its allocation, juggling competing priorities and ensuring executives are always where they should be are essential skills for all EAs and PAs.
The core duty of EAs and PAs is to organize their executive's schedule and agenda, the executive's office schedule and their own agenda. This last task encompasses the various projects managed by EAs and PAs, all of this having to be understood relative to all involved stakeholders' own agendas. And on top of that, EAs have to deal with constant interruptions, emails and phone calls.
This one day course teaches the personal skills needed for you to become a master of available time, and to enhance your prioritisation process and increase your efficiency.
In this course you will:
Learn the basics of planning and the methodology of time management
Master the attitudes and methods in the context of planning
Acknowledge and tackle time wasters
Click on the document link below to see the full course program or on one of the event links to register for the date of your choice.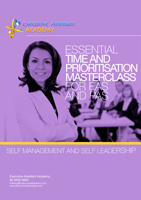 Self Management and Self Leadership Brochure


| Member Registrations | Non-Member Registrations |
| --- | --- |
| Please click on the appropriate date and event link below to register for that event. | Please click on the appropriate date and event link below to register for that event. |
Note:
Attendees will be provided with the necessary materials for all training courses. All courses are held in central locations, close to the CBD of each city. Executive Assistant Academy courses are all designed and written by EAN and delivered by trainers either employed by EAN or contracted by EAN. All trainers are specifically chosen for specific courses because of their expertise and experience in their respective fields. For terms and conditions relating to bookings and payments, please see our Terms Of Use & Privacy Statement page.