Advanced Communications Workshop
9am - 5pm
Members: $750 + GST
Non - Members & Associate Members: $995 + GST
To state that the ability to communicate effectively is the single most important skill for those in a senior business support role may not be too great an exaggeration.
EAs and PAs must be as adept at filtering up as they are filtering down, which means they must also have the skills to understand the differences in those business dynamics and be able to adjust their communication styles accordingly. At this level in business there is no room for those who misinterpret communication, but more importantly, there is no room for those who can't effectively communicate with all those around them.
This one day course will provide you with a variety of tools and techniques to develop an understanding of group dynamics, provide strategies to help deal with various workplace behaviours and improve your communication skills, whatever the circumstances.
In this course you will:
Optimise your communication
Maximise influence
Build effective and strong work and personal relationships
Persuade and influence effectively
Click on the document link below to see the full course program or on one of the event links to register for the date of your choice.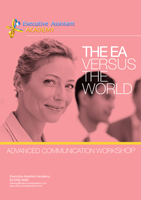 ---
Note:
Attendees will be provided with the necessary materials for all training courses. All courses are held in central locations, close to the CBD of each city. Executive Assistant Academy courses are all designed and written by EAN and delivered by trainers either employed by EAN or contracted by EAN. All trainers are specifically chosen for specific courses because of their expertise and experience in their respective fields. For terms and conditions relating to bookings and payments, please see our Terms Of Use & Privacy Statement page.