Event Planning & Event Management Masterclass for EAs and PAs
9am - 5pm
Members: $750 + GST
Non - Members & Associate Members: $995 + GST
EAs and PAs are more and more often now required to organise events for their organisations. EAN surveys indicate that over 90% of EAs and PAs organise events of some kind. These range from the corporate Christmas function, to a conference, a fundraising event or a team building event.
Events can, like projects, be ad hoc but for EAs and PAs, they tend to be reproduced on a regular and frequent basis. Learning the tools and skills to manage and deal with event management, will increase an EA's efficiency in tackling any events they will ever need to manage.
This Masterclass covers all essential knowledge and skills from basic to advanced and is suitable for novices as well as experienced EAs in event management.
In this course you will:
Understand clearly your role and duties as an event manager
Master the technical, personal and social skills necessary to achieve the goals assigned to you
Leave with a clear methodology to efficiently manage all events
Understand the importance of each part of the process
Click on the document link below to see the full course program or on one of the event links to register for the date of your choice.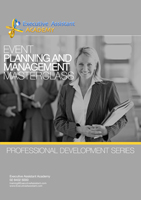 Event Planning and Event Management Brochure
---
Note:
Attendees will be provided with the necessary materials for all training courses. All courses are held in central locations, close to the CBD of each city. Executive Assistant Academy courses are all designed and written by EAN and delivered by trainers either employed by EAN or contracted by EAN. All trainers are specifically chosen for specific courses because of their expertise and experience in their respective fields. For terms and conditions relating to bookings and payments, please see our Terms Of Use & Privacy Statement page.