EAN's Global FREE Webinar Series
The Automate Your Success Series -
Introducing Technology that Actually Works!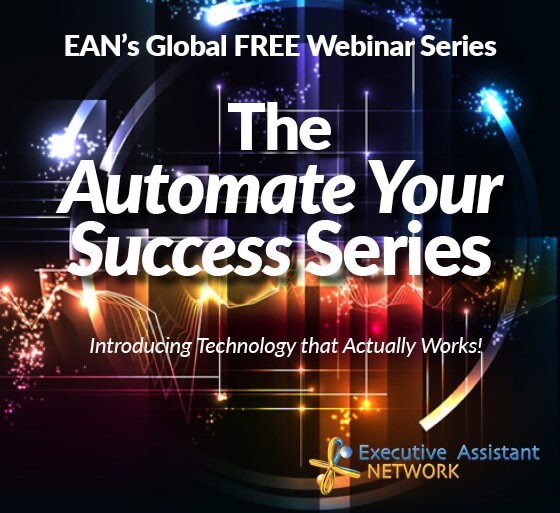 Wouldn't it be great to automate your success by having access to technology that actually works. Would knowing what technology to use and more importantly how to use it help you manage the office of your executive? This series is all about helping you achieve exactly that, for you, your executive and your collective team.
Just some of what you will learn in this series includes:
Personal productivity technology that helps you get your job done more easily
New hardware and software tools specifically for EAs
Collaboration tools to help you get more done in your teams
Cloud computing to help you simplify complicated tasks
Outrageous outsourcing – have simple tasks done overnight while you sleep
'Overwhelmed' – a word that is often used by our members to describe how they feel in regards to the vast number of new technologies that appear on the market every year. Our sessions are designed to remove that sense of foreboding, and in a fun, free, and interactive session where you can join your peers, help you identify exactly what technologies you need to keep abreast of, which ones can help you and exactly how they can do that. Our webcast series are hosted by Crain Rispin, EAN's futurist in residence


Episode 1 - Watch Replay of Video Here
Episode 2 - Watch Replay of Video Here
Episode 3 - Watch Replay of Video Here
Episode 4 - Watch Replay of Video Here

A hit at many of our conferences, Craig is an internationally acclaimed futurist listened to by major corporations and governments across the planet. Craig has over 20 years' experience working in the very places that the present we all know today was imagined and then created. His experience in some of the most innovative companies in the world ranged from IT to consumer electronics, the internet and broadcasting industries. His role is to help you look amazing, save you time, and increase your personal productivity massively. Plus these new technologies are so lovely to use - they will put a smile on your face!