Understanding Corporate Finance
9am - 5pm
Members: $750 + GST
Non - Members & Associate Members: $995+ GST
To be a top class EA you don't need to understand your company's finances as well as your CFO. But if you want to understand the opportunities or challenges facing your organisation and assist your executives to the best of your ability by anticipating their needs, it is essential to know the basics.
From reporting on departmental or divisional business activities to attending strategic planning sessions or even board meetings, the value of your input will be dependent on your knowledge and understanding of basic financial reports.
This fun and interactive course will unveil the simple mysteries behind the world of finance and equip you with the necessary tools and skills to apply financial management techniques when analysing business performance or looking for business enhancement opportunities.
In this course you will:
Read and interpret key financial statements
Understand financial implications of business decisions
Use key financial ratios and indicators to assess performance
Click on the document link below to see the full course program or on one of the event links to register for the date of your choice.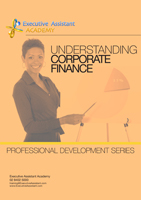 | Member Registrations | Non-Member Registrations |
| --- | --- |
| Please click on the appropriate date and event link below to register for that event. | Please click on the appropriate date and event link below to register for that event. |
---
Note:
Attendees will be provided with the necessary materials for all training courses. All courses are held in central locations, close to the CBD of each city. Executive Assistant Academy courses are all designed and written by EAN and delivered by trainers either employed by EAN or contracted by EAN. All trainers are specifically chosen for specific courses because of their expertise and experience in their respective fields. For terms and conditions relating to bookings and payments, please see our Terms Of Use & Privacy Statement page.