Strategic Planning and Project Management
9am - 5pm
Members: $750 + GST
Non - Members & Associate Members: $995 + GST
Strategic planning is how an organisation or an individual defines its objectives, values, missions and the way to achieve these, including the allocation of resources. Project management is the process of organising and managing the achievement of a specific and temporary goal enclosed in the wider strategic plan and aimed at achieving the latter.
EAs and PAs must think strategically, understand how their business operates and how their executives arrive at the decisions they make. This requires understanding of how strategic plans and business plans are developed.
This interactive course has been designed to enable EAs and PAs to identify and understand the overall trends underpinning the functioning of their organisation and how these guide the implementation of specific projects.
In this course you will:
Understand your executive's priorities and what keeps them awake at night
Gain the ability to work on the strategic business planning process
Make strategic decisions in a more structured and confident way
Deal with any sort of project with a clear and efficient step-by-step methodology
Click on the document link below to see the full course program or on one of the event links to register for the date of your choice.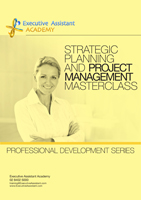 Strategic Planning and Project Management Brochure
| Member Registrations | Non-Member Registrations |
| --- | --- |
| Please click on the appropriate date and event link below to register for that event. | Please click on the appropriate date and event link below to register for that event. |
---
Note:
Attendees will be provided with the necessary materials for all training courses. All courses are held in central locations, close to the CBD of each city. Executive Assistant Academy courses are all designed and written by EAN and delivered by trainers either employed by EAN or contracted by EAN. All trainers are specifically chosen for specific courses because of their expertise and experience in their respective fields. For terms and conditions relating to bookings and payments, please see our Terms Of Use & Privacy Statement page.