Why do an EA Academy Diploma
Created over 7 years ago, but continually evolving as the EA role evolves, our qualifications offer EAs and PAs a unique opportunity to study and receive qualifications that are designed purely for their role. Unlike generalist business qualifications, they are 100% role specific and focused on the modern EA position.
The only role specific pathway diplomas for EAs and PAs in Australia
Learn the skills and knowledge that will enable you to help your executive and organisation achieve greater results
Uncover a model and way of working with your executive that increases your ability to be proactive and strengthens your EA and executive partnership
Master the art of helping to manage your executive's focus, mind-set, energy, time, relationships and priorities
Safeguard your career – ensure that you are at the forefront in terms of your vision, knowledge and skills in relation to what organisations and senior executives need from an EA today
Designed and delivered by the leading EA and PA experts in Australia and renowned thought leaders in the global EA community
Contain unique, internationally renowned, models, tools and frameworks
Utilise our highly acclaimed EA and executive alignment and assessment survey to help create the strongest possible partnership foundation
Contain extensive business acumen, business skills and business knowledge modules as well as extensive social and interpersonal skills, communication and emotional intelligence modules
Two qualifications to choose from based on your level of experience and knowledge
Choose from classroom-based sessions or distance learning
Classroom and distance learning options designed to take between 12 months and 14 months to complete
Available via distance learning to international students outside of Australia
Our diplomas have cemented their reputation as the Industry Recognised Qualifications for EAs in Australia
Relevant and current for how the EA role has evolved and is continuing to evolve
Currently aligned to existing nationally recognised qualifications
Right to use either the Dip. EOM® or Adv. Dip EOM® designation on your CV
Listing on our EAA Alumni Page for anyone to validate your qualification
Internationally Accredited by the IACC
Increased executive productivity and effectiveness
International Association of Professional Career Colleges Accredited Organisation
Executive Assistant Academy is accredited and recognised by the International Association of Private Career Colleges (IAPCC). IAPCC accreditation ensures that the Academy has met IAPCC benchmarks in the areas of course content, course delivery, student assessments, administration and tutorial faculty.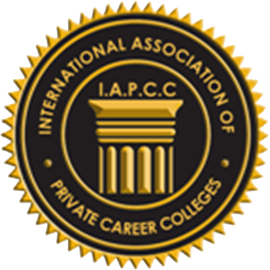 Greater executive team cohesion and performance